Created on May 16th 2016
A great example of the slightly unusual looking Spanish FR-8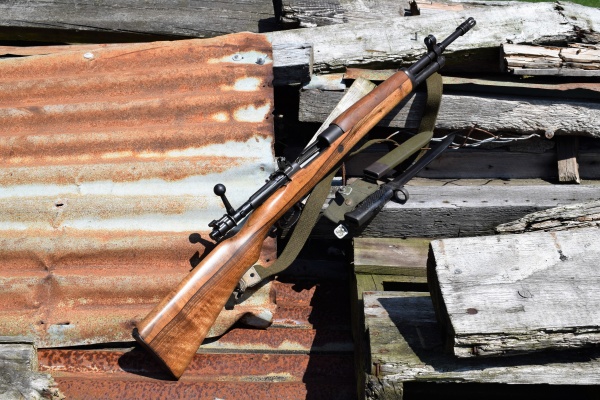 Chambered in NATO 7.62 x 51.  Serial number 23387.  This is a really smart example of the Spanish FR-8 in an interesting timber, possibly Elm.  The metalwork being in a parkerised finish.  This is a distinctive looking rifle with some strange attributes.  Most noticeable is the slightly odd muzzle end of the rifle.  It has what appears at first glance to be a gas tube or magazine tube running underneath the barrel. The purpose of the tube is no more sinister than a mount for the bayonet and also contains cleaning equipment.  The barrel itself has an M-16 type flash hider and the arrangement around the front sight looks like something from an AK assault rifle.  The strange illusion is then compounded by the WWI style straight bolt handle of Gew 98 fame, the pistol grip stock and the finger grooves.  If you then attach the bayonet that adds into the mix a hint of M1 Garrand with a soupcon of Jungle carbine!!  The side mounted canvas strap looks like it was taken from a late war 1903 from the far east theatre of war.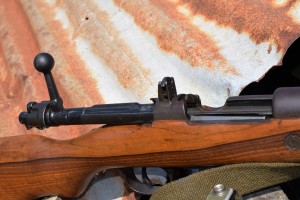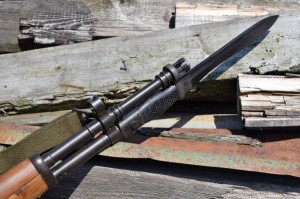 However, appearances apart, and one should never judge a book by its cover etc;  the rifle is actually in very good condition.  These were altered Mausers and that legendary build quality still shines through the cunning disguise.  The rifle is simply known as the FR-8.  FR is an abbreviation of Fusil Reconvertidas.  These weapons were a favourite of the Spanish special forces and saw considerable use.  They had the reputaion of being light (7.5lbs) and easy to use along with a good reputation for reliability and accuracy.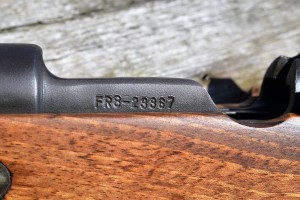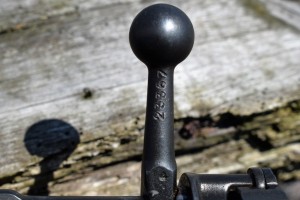 The rifle itself measures up as follows; overall length 38.3/4″, the round parkerised barrel is 19″ long including flash suppressor.  Trigger pull is exactly 13″. Officially refinished phosphate black to grey / green.  The serial number is clearly marked on the side wall of the action.  Standard Mauser features such as cocking on closing, flag safety, removable magazine floor plate and bolt release.  The bolt handle is marked with the matching serial number.  The remnants of the old markings on the receiver are just visible in the right light. The Spanish crest of the winged bird with the words "FABRICA DE ARMAS" and then underneath "LA CORUNA /  M O5 or 95″ (indistinguishable) At the woodwork line "Cal, 7.62″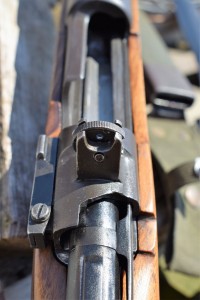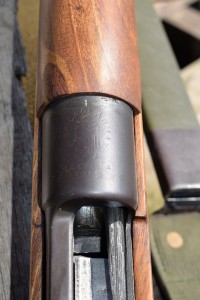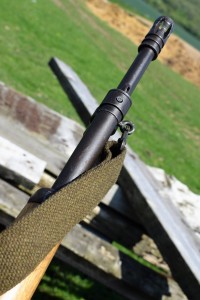 The rear sights are mounted on the rear action bridge and consist of an unusual rotating aperture device with different sized holes which present themselves as the aperture wheel is turned.  There is also a simple open "V"sight which must be the battle sight.  The front sight is a simple pointer which can also be adjusted through the substantial protective ring that surrounds it.  A tool is required to go through the ring and screw the pin up and down.  The rifling in the bore is of four-grove RH twist and is in wonderful condition with no pitting and very clean.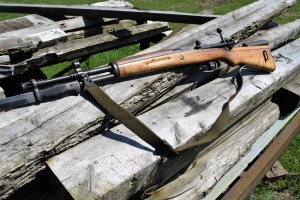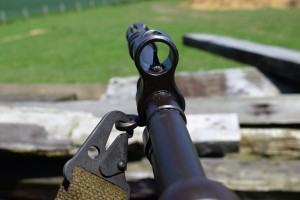 This rifle could best be described as unusual or quirky but it is a fine example with little signs of damage or wear.  There has been one minor stock repair on the obverse side to the bolt release catch, but it presents itself more like a part of the natural grain in the timber.  Sling and bayonet plus front sight tool and other sight pin included in sale.  The bayonet and frog plus green plastic scabbard measure up to 14.1/4″ in length.  It has a blackened Bolo-style blade with a single edge.  The grips are black chequered plastic against phosphated steel.  The blade is marked on both sides, one side has the Spanish crest, the other a long serial number "ET 78636A / blade makers crest of "SE" within a cogwheel with a sword down the center, over "TOLEOD / I.N.I"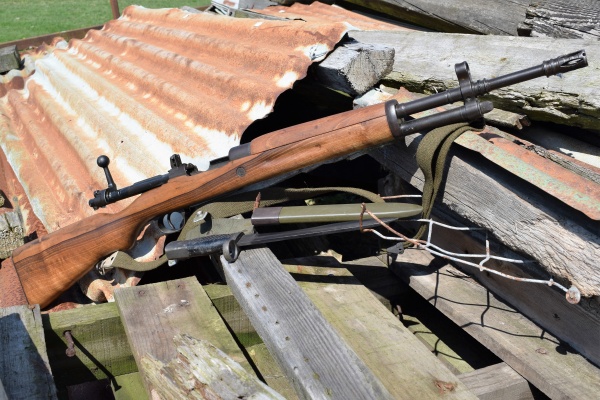 Stock No'  f 561
£ 725.oo 
Comments Off