Created on July 10th 2018
A good example of the Mauser 98/22 long Rifle as supplied to Turkey by CZ Brno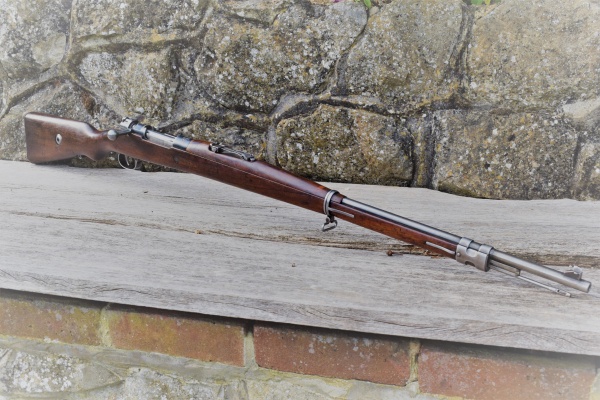 The Turkish war of Independence saw the country rearm afterwards with this rifle, the Model 98/22.  Built by CZ Brno these rifles can have purely Turkish markings or original CZ markings and Turkish together.  This rifle has both types of markings.  The Czechoslovakian Army adopted it as their first and main Infantry Rifle.  After that it seems that most revolutions and rebels around the world have seen their fair share of these robust accurate rifles.  One could be forgiven in thinking that before the AK47 there was the 1898/22.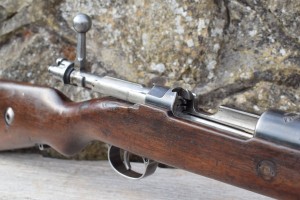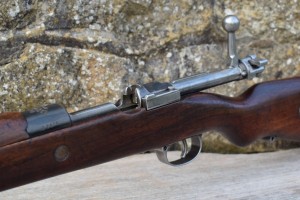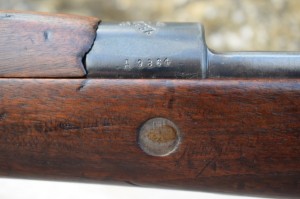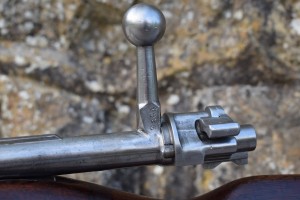 A full length Mauser with a 98 action, straight bolt design.  Flag safety and internal staggered 5-round magazine.  This rifle measures 49.1/4″ in overall length and the barrel 29."  The trigger pull is 13″ to centre.  Semi-pistol grip stock with a handguard over the barrel which covers half the barrel length.  The stock has a pleasing patina to it but it has been repaired in a professional armoury manner.  There is a large inlet wooden butterfly reinforcement behind the rear tang and a small one behind the mid band on the hand-guard over the barrel.  These repairs seem well executed and are unlikely to fail.  The stock is fitted with a flush steel butt-plate and a raised doomed washer strip-down disk.  Additionally just behind the semi-pistol grip is a conventional early sling swivel mount, as fitted on the Gew 98.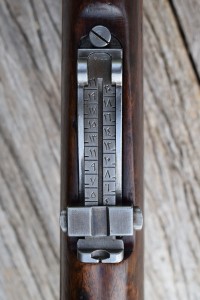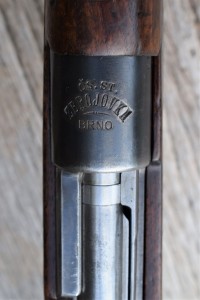 The rifle is chambered in 8mm Mauser. The action was originally blued and has held the finish quite well but the barrel has lost most of it and dropped back to grey/silver.  The bolt was finished in the white and shows early CZ marks on some of the components.  The straight arm bolt stem has the matching number marked on the top side.  The receiver ring is marked with the three line CZ banner which reads: "C.S. S.T. / ZBROJOVKA / BRNO"  These markings can be dated to 1922-23.  The side wall is blank.  The rear sights are marked with Turkish markings and are the simple tangent type.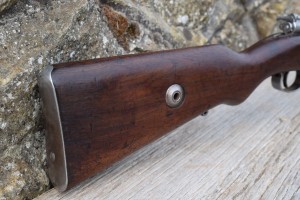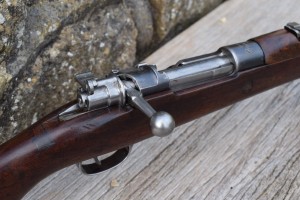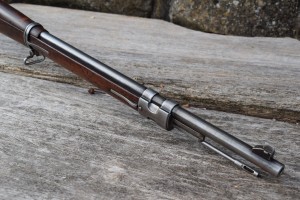 Both the mid and the front "H"-type band are held in position by springs.  The front nose-cap has the integral bayonet fixing and the cleaning rod passing through it.  Both bands are marked "64″  The serial number on the receiver ring is "A 9864." The front sight is an inverted "V" on a ramp with anti-glare cross hatching on the rearward slope.  The trigger guard and floor-plate have lost their colour and the item is marked with the matching number.  Beside that number is perhaps the most clearly readable circled "Z".  The locking screws for the main stock bolts are present. Smooth action and very good bore.  Clean bore, strong rifling – this should be a very accurate rifle.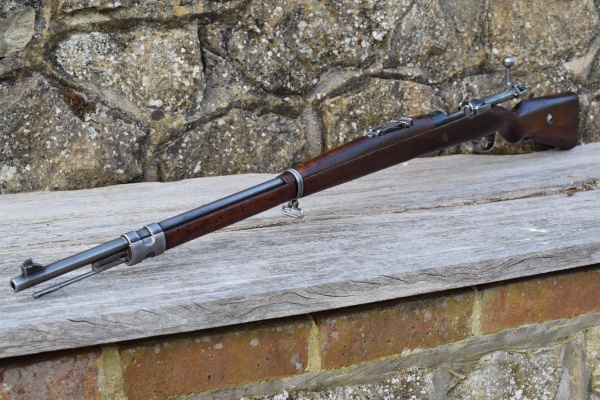 An unusual Mauser for the collection.
Please ask for Stock No' f 714
£ 595.
Comments Off