Created on April 2nd 2011
A genuine U.S. Krag Carbine in .30-40 cal'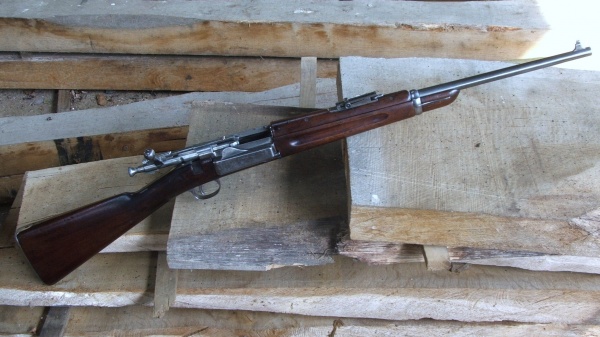 Of standard Carbine specification as manufactured by the Springfield Armoury. Designated Model 1898 this is a genuine carbine, not a converted rifle.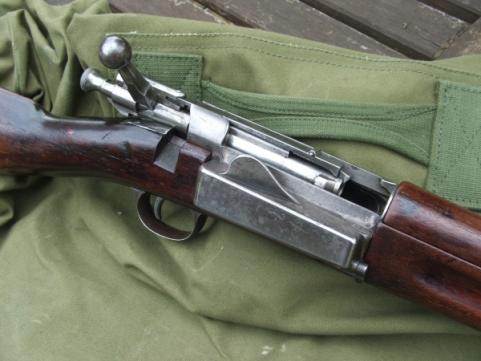 Over all length is 41.1/2″. Barrel length 22″  Breech marked "U.S. /  MODEL 1898  SPRINGFIELD ARMOURY.  128176″
Finish is lacking on this example. Most parts are silver grey. The Black American Walnut stock has a fine finish in a deep toned service rifle colour with finger groves on the forend.  The stock has been professionally reinforced as tell-tale hair line cracks were spotted in the wrist.  Before this, a faint Final Proof mark was spotted behind the trigger guard. This was lost in the finishing. No cartouche was seen on the left hand side of the wrist. There are no other marks on the stock hinting at its previous usage.
Standard side loaded action with straight handed bolt, flag safety and magazine cut-off to the left. The action is good and the rifle cycles perfectly. The bore still has life left in it but does show wear.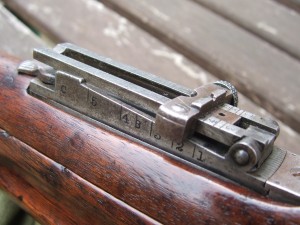 Later Buffington type rear sight correctly marked with "C" for carbine.  Both windage, elevation and lock up are good with graduations to 2300 yards.  Steel butt plate with trap for cleaning equipment. Rods and bottle AF.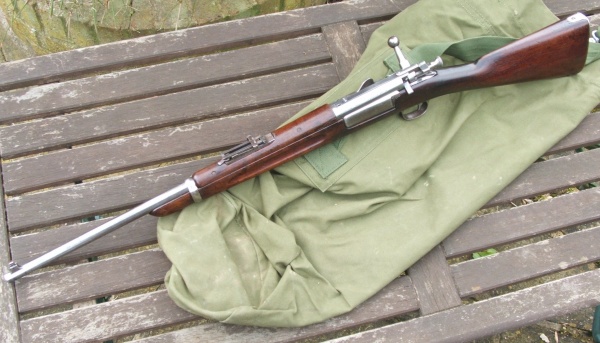 British proofs applied sympathetically.  All round, an affordable U.S. Springfield Krag carbine to get started with. Ready to shoot and ready to be pampered.
£995.
Comments Off