Created on November 2nd 2012
Official designation the ESPINGARDA 8mm M1904/39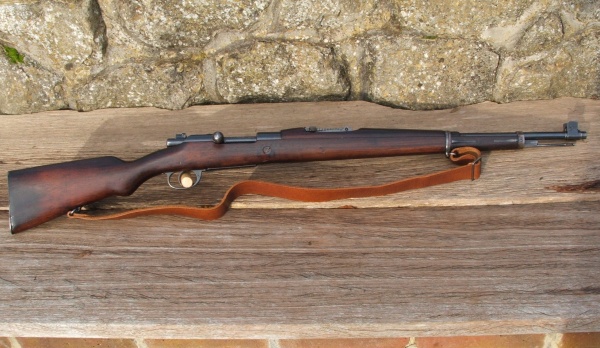 Originally designed and built as the Model 1904 rifle in 6.5 x 58 this rifle was officially modified by Mauser of Berlin in 1939 to the 7.92 x 57 cartridge.
In most respects it is basically a 98 Mauser, but it uses a bolt system from Mannlicher-Schonauer.  In the change from 6.5 to 7.92 the only markings that were added on this rifle are the second line on the action wall, detailing where the conversion was carried out.  The side wall reads as follows; "ESPINGARDA- PORTUGUEZA 6.5 MOD' 1904  / DEUTSCHE WAFFEN -UND  MUNITIONSFABRIKEN. BERLIN"
The blued breech carries the crowned Portuguese Royal cypher of King Carlos 1st.  One the other side of the breech is the serial number "C 3322″  These are a pleasant rifles to shoot in 7.92mm with good accuracy as standard.  The rear sights had to be changed and on the side of the ramp it is possible to just see the remains of the old markings which were cut away.  The replacement sight is graduated from 200 to 2000 meters.
The front sight is protected by substantial foresight protectors.  It has a finely cross hatched rear to the ramp which was designed to cut down glare.  The rifle is 42.3/4″ long overall.  The barrel is 23.1/2″ long and has a very good bore.  The walnut stock has a flat steel butt-plate and the matching serial number impressed behind the rear sling swivel.  It has a single large stock cross bolt to withstand recoil, this is numbered "22″ also.  The trigger guard and floor plate both have matching numbers and the floor plate has an ingenious release catch located withing the trigger guard forward of the trigger.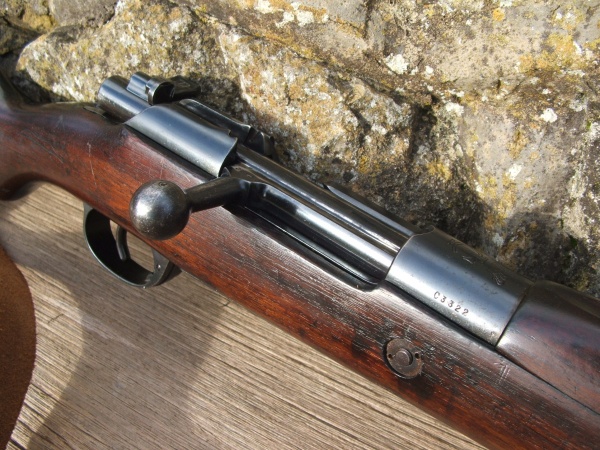 Blueing all over the rifle is very good, the magazine follower and bolt release catch have a high degree of blued finish and are also matching in numbering.  The timber of the stock is matching and very dark but with no splits or shakes.  There is a very small chip out of the stock just in front of the butt plate tang.  It has two fore end bands held on by individual springs, a bayonet lug and a leather sling.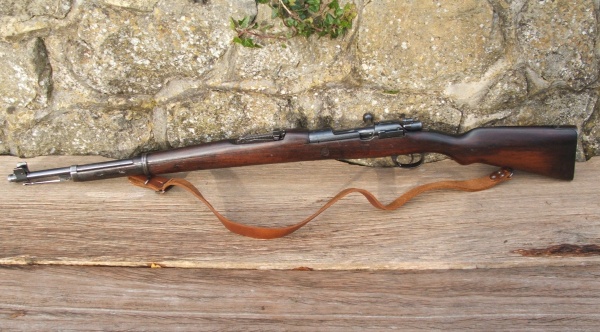 Stock Code f 310
 SOLD

Comments Off