Created on November 17th 2012
Interesting Mauser Model 98′ Karbine
A K98 with early barrel and action dating from 1938, with later laminated stock and Dr W.Gerard Telescopic sight.
Serial number 1655 on side of breech, magazine floor plate, bolt release catch and all components of rear sights.  Other parts including the bolt carry other numbers.  Bolt handle bent to clear scope and reduced height safety flag to rear.   The breech is marked along the LHS " Eagle over Swastika  -  XI (engraved) – 1655″  The action side wall marked "Mod.98″  This is the correct type face for Mauser/Oberndorf.   On the opposite side of the breech is a "359 waffenamt".
The most pertinent marks are on the barrel just in front of the breech.  They provide a date, the Bohler steel barrel makers mark and the date which is 1938.  -  Visible  "70 38 BO"  followed by three more clear waffenamts which are all "WaA623″  These are all German factory inspectors marks for different inspections on the weapon during manufacture.  Underneath the bolt handle are the same  "623″ inspectors marks, so at least the bolt barrel and action were all produced in the same factory.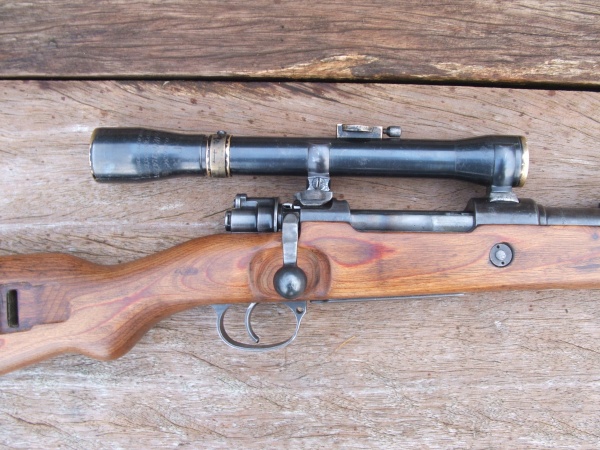 This carbine is 43.3/4″ in length.  The barrel is 24″, round and loosing its bluing.  Much of the finish is lost through natural wear, but this wear is even all over.  The scope is a double claw mount type.  The front mount is a half ring, on the object lense.  To fit the scope this slips into a dove-tailed block in the breech.  The rear mount has the facility of windage adjustment.  The rear mount has ears to pull back and so release the claws on the base of the posts.  The scope has a flared ocular end measuring approximately 40mm, the tube is a 26mm item and the object lens measures up to  40mm.   The scope is marked thus on top of the eyepiece;  "C  /  DR. W. GERARD / OPTISCHE  ANNSTALT /  CHAILOTTENBURG"  The markers name and address.  The scope is adjustable for elevation by the tower mounted on top.  Internally it has the classic post and rail reticle.  Optics are good and the external bluing is better than the rifle.
The stock is late war type laminated type with faint markings below the bolt stripping disk – these resemble the Kriegsmarine inspection marks but they are difficult to read. The stock has the early non-cupped flat steel butt-plate.  The front barrel band is the "H" type of early fitment.  The rifle is equipped with a sight hood and a cleaning rod.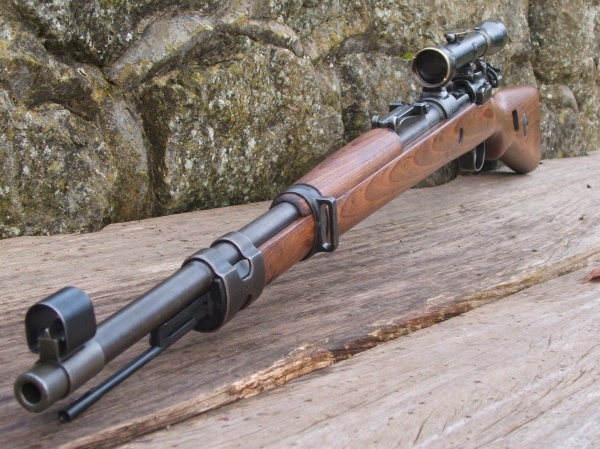 The action is mechanically fine and cycles well.  The bore is good but not spectacular but as is usual with these battered relics, this rifle is extremely accurate even without the scope.
Stock code  f282
£1200. SOLD
Comments Off