Created on May 27th 2016
A good example of the New Model Army Percussion Revolver by E. Remington & Sons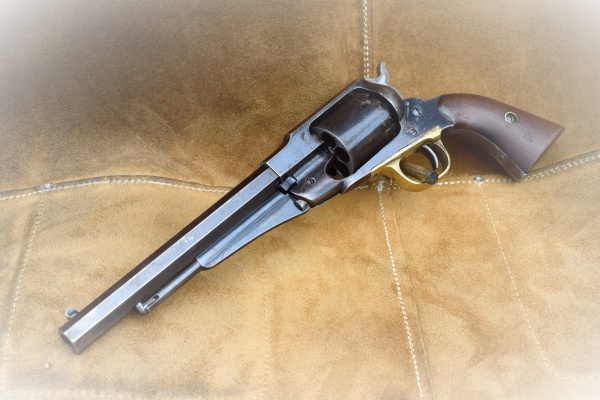 One of the main arms of the federal forces in the American Civil War.  Extremely large numbers were produced for the government and were marked as inspected, by a cartouche on both grips.  This sturdy revolver had an 8″ long octagonal barrel, was chambered in .44 and had six shots in the cylinder.  The overall finish was blued and it had a brass trigger guard.  The grips are made from American black walnut which was chosen for its straight grain and good finishing qualities.  They have boxed cartouche's with rounded corners which contain the initials of the government inspector who finally accepted the guns.  This revolver is one of the known type with two sets of inspectors  initials, although clearly stamped it is debatable what the actual letters are – worth more research.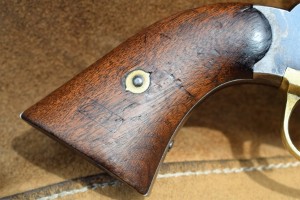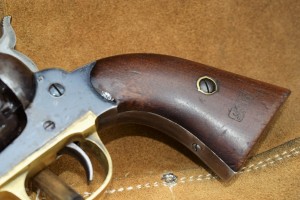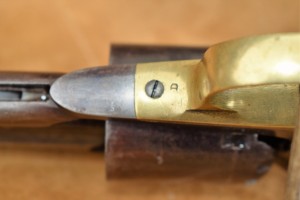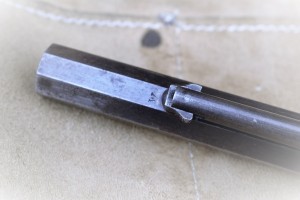 Overall length is 14,"  barrel 8″ long. There are numerous factory inspectors letters stamped about the revolver as follows; frame rear LHS "H", frame in front of the cylinder beside the exposed thread of the barrel "P", on the barrel as it screws into the frame "D", on the RHS  a "W" beside the barrel thread – still on the frame, a "W" at the point where the barrel screws into the frame.  There is also a "W" just in front of the loading lever locking stud, under the barrel.   There is a clear "D" on the trigger guard.  There is also a "D" stamped into the underside of the wooden grips correctly only on one side.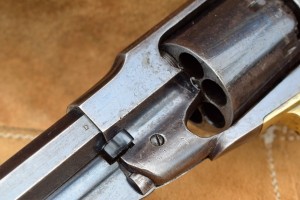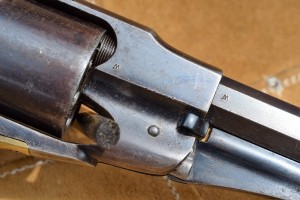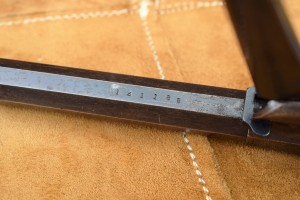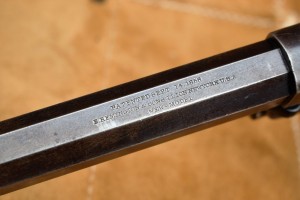 There is plenty of original blue on the revolver but also some scratching upon the surface and some light edge wear.  There is some pitting on the sides of the hammer and some loss of finish.  The sights consist of a centralised groove in the top of the frame which acts as the rear sight and a simple pointer at the muzzle.  The top of the barrel is marked as follows; "PATENTED SEPT 14. 1858 /  E. REMINGTON & SONS, ILION  NEW YORK USA  / NEW – MODEL."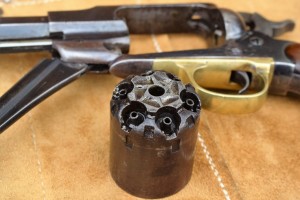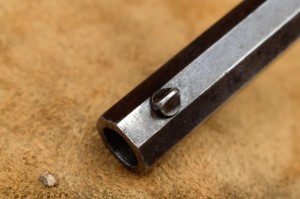 Mechanically the timing is fractionally out, in that the lock up is only achieved by turning the cylinder by hand a further degree or so.  A competant gunsmith could adjust and fix.  The revolver carries the serial number "121188″ which is hand stamped underneath the loading lever on the underside of the barrel.  It is obvious that those numbers were applied by hand.  Inside the barrel the bore is pitted and is slightly misty in places but the rifling is strong.  The central pin about which the cylinder revolves is a replacement.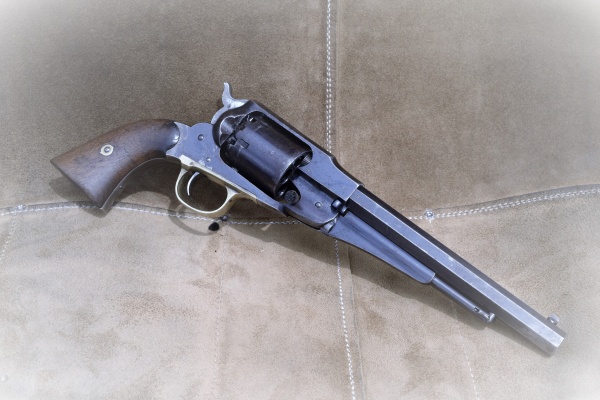 Altogether, a good genuine Remington New Model Army from the U.S. Civil War - a true piece of history from a tumultuous period.
£ 2400.
Comments Off