Created on September 4th 2013
Knowing full well that there are many highly skilled craftsmen and women out there, and many, extremely knowledgeable and proficient gunsmiths who might see this page; I would like to make the following declaration. " I am NOT A GUNSMITH or anything like it. I am an extremely keen fiddler, probably in some peoples eyes -a menace to the trade. But I like doing this and some folk appreciate my work; so without further ado I present a record of some of the jobs I have undertaken.
These are some of the guns I have worked on, unfortunately I am really bad at taking the "before" photos so most of the jobs come up as finished work;
Here is a brief  "before and after" record of a recent restoration project undertaken on a Sharps Borchart Single shot rifle caliber .45-70.
The rifle was presented with a hevey covering of what appeared to be Sadolin wood stain and varnish along with other strange waxes and oils.  The idea was to get back to the original woodwork and re-finnish.
The fit around the action;
~~~~~~~~~~~~~~~~~~~~~~~~~~~~~~~~~~~~~~~~~~~~~~~~~~~~~~~~~~~~~~~~~~~~~~~~~~~~~~~~~~~~~~~~~~~~~~~~~~~~~~~~~~~~~~~~~~~~~~~~~~~~~~~~~~~~~~~
 Burnside Carbine
Somebody else had had a good go at this one first; it had the tell-tale smell of burnt oil all over it and a strange yellow hue over the action which looked more like tobacco stain than any kind of recognisable finish.
 My involvement was to;
Strip, clean, but to leave certain part as was, like the loading lever and block.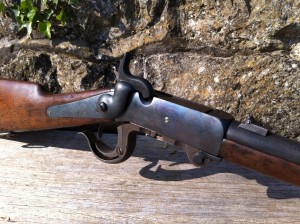 I decided to case colour the action, hammer and trigger.
The woodwork was stripped and refinished.
The barrel, sights and butt-plate were blacked.
Customer happy.
Leave a Reply