Created on April 26th 2016
Two Virtually Unused Webbing Belts By Mills from the WW1 Conflict
WW I Officers belt & mag pouch.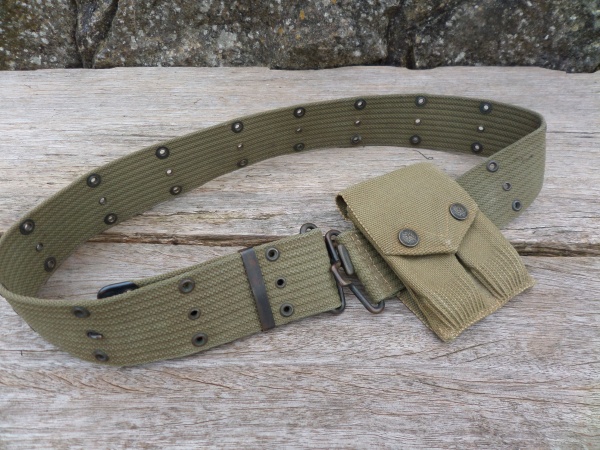 Olive green canvas with brass black painted fittings.  The belt is 2.1/4″ wide with three lines of holes all around attached is a double canvas pouch for the 1911 pistol magazines.   On one end keeper of the belt the full manufacturers details are stamped, reading; "MADE BY / MILLS WOVEN CARTRIDGE BELT CO. / WORCESTER, MASS USA."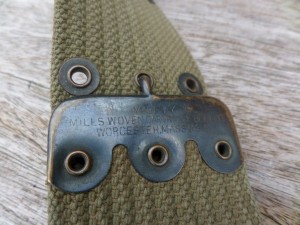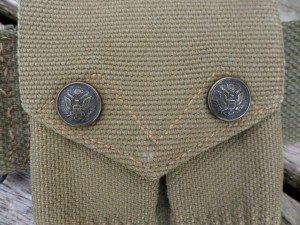 The flap of the magazine pouch is fastened by two eagle embossed fasteners painted black. Both function perfectly well. On the underside of the fastener the words "MILLS MILITARY FASTENER" are visable.  The pouches are intact with no damage or holes.  Something unreadable is just visible on the underside of the flap.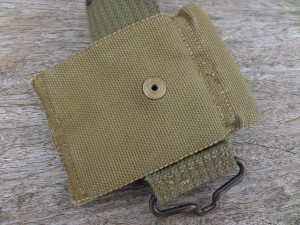 The belt is fully functional, the buckle works well and is not bent or deformed.  There is no fraying of the canvas. There is slight verdigris on some of the hole fittings.
A fine genuine survivor of the First World War worn by the US troop on service in flanders.  A rare item in the UK specially imported from a US collection to compliment most US pistol war-time rigs.
£ 355.
Non-Com Pistol and Saber belt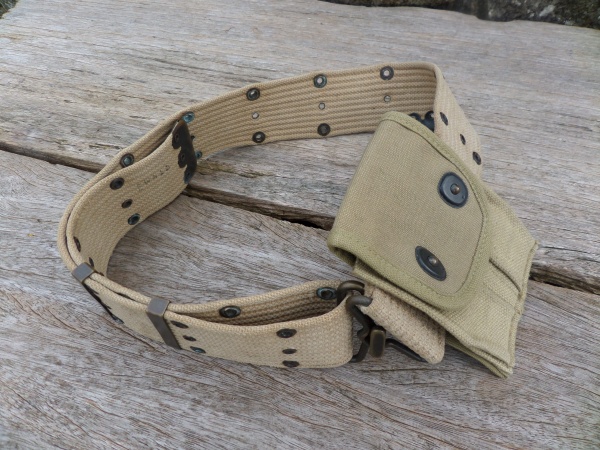 Of light Tan colour with three lines of brass ringed holes, same dimensions as previous examle in that it is 2.1/4″ across.  All brass fittings are in fine condition with slight verdigris inside some of the hanger holes.   Additionally the belt has  a Sword hanging loop attached upon the lower edge.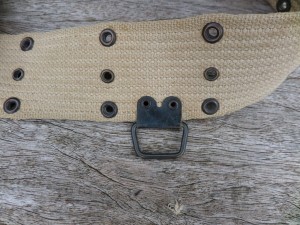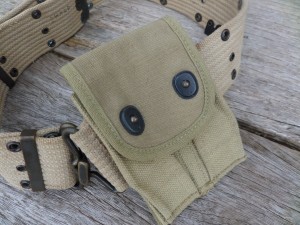 The double 1911 pistol mag pouch has black rectangular fasteners and is in fine condition.  The pouch appears unused.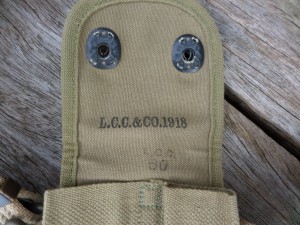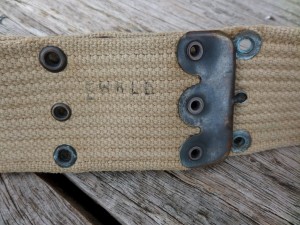 A name which looks to be "E, WALD" is inked into the reverse of the belt.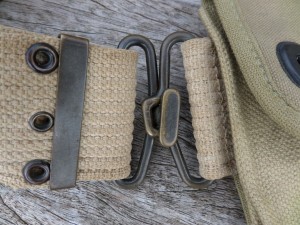 The inside of the pistol mag'pouch flap is clearly printed with the makers name; "L.C.C. & CO. 1918″  and " L.C.C./ 60″.
Altogether in fine condition and copleatly serviceble.
£ 225.
Comments Off