Created on November 23rd 2011
Now, This one's a cracker….. Superb U.S. 1898 Krag Service Rifle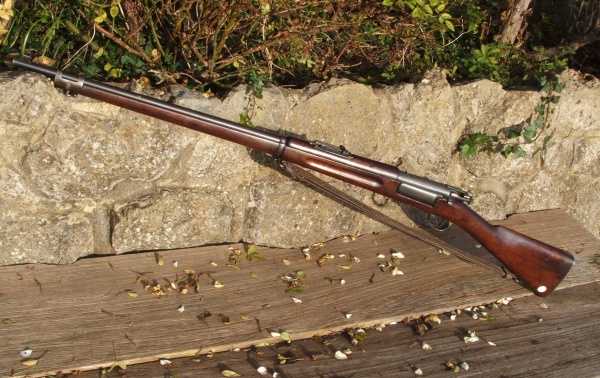 Action clearly marked  "U.S. /  MODEL 1898.   SPRINGFIELD ARMOURY.   425829″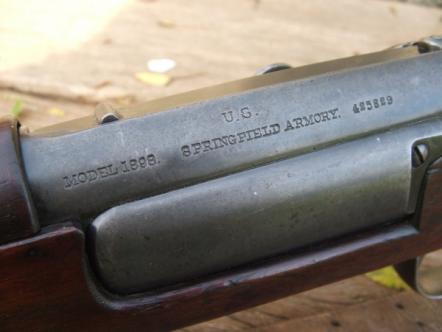 Chambered in the government's .30-40 round with side loading magazine.  Full length rifle  49.1/4″ overall.  Round blued barrel  30″.   Model 1901  Buffington rear sight, with compensation for "bullet drift", windage and elevation adjustment and three aiming points.  The rifle has the standard blade  front sight.
The serial number on the action indicates manufacture in late 1902 in which year, the Springfield armoury produced more than 62,500 rifles.  That was the second highest production total in one year and is quite impressive when one considers the absolute standards of perfection that these rifles were built to.
The good full length one piece American Walnut stock is clearly marked with the boxed inspectors cartouche at the wrist, which has the initials "J.S.A." within.  These stand for J. Sumner Adams, inspector through to 1904 when production halted on the Krag.  Behind the trigger guard is the script circled final proof "P" and a rack number 46.  The LHS of the butt stock is clearly marked with a stencilled white number "45″ the numerals being 1″ high.  Below this, clearly stamped is the following; "Co.E,  1st INF / 45."   The stamping is repeated on the toe of the stock between the lower sling swivel and the steel butt plate.  A wonderful clue to the rifles service life that warrants further investigation.
Overall condition is very pleasing with just the right amount of wear expected from a rifle that has seen some interesting times.  I would characterise this rifle as having most of its finish but it being dull – worn, certainly not bright, but just right for a service rifle.  The last bonus which would be difficult to ignore is that this sling comes complete with its original leather M1903 sling.  Smooth action, mechanically fine with safety at rear of bolt and magazine cut-off at rear of action.  Good bore.  Stock has finger grooves, two sling swivels and steel nosecap which also accomodates the bayonet fixing and stacking swivel.  Flat steel butt-plate with trap for cleaning.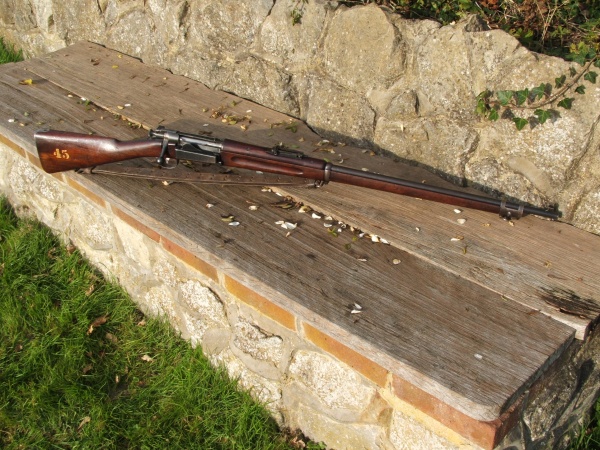 This is a good all round complete Krag from one of the last rifleman's wars just waiting to show what it can do. British proofed.
Stock code: f 242
£1850.
Comments Off