Created on September 10th 2017
An interesting Trapdoor Springfield in .50-70 govt'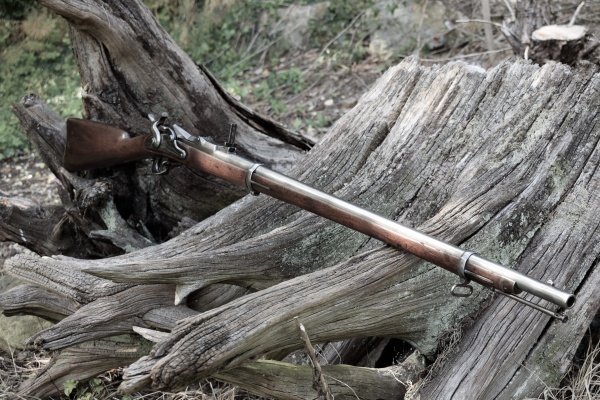 An interesting Springfield trapdoor chambered in the obsolete .50-70 government cartridge.  Fully stocked in American Black Walnut with two barrel bands.  Mainly finished in the white, and not suffering too badly at all from the effects of time, despite its original lack of finish.  The rifle is 52″ in overall length.  The barrel is 32.1/2″ long with the fore-sight mounted upon a square lug which doubles as a bayonet lug for a regular triangular socket bayonet.  The furniture is all iron and the correct full length cleaning rod is in position under the barrel.  Steel "U.S." marked butt-plate with a small copper diamond-shaped insert in the comb just in front of the upper tang.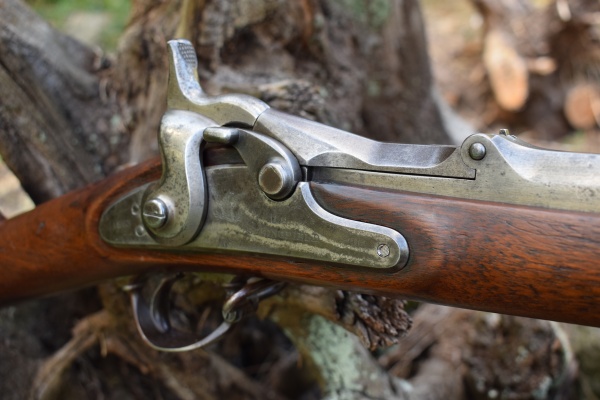 The trigger pull is 13.1/2″ from center.  The lock plate is the correct bevel-edged type and is marked with "1863″ behind the hammer.   The American eagle and shield clutching broken arrows is directly in-front of the hammer and then the words, "U.S.  /  SPRINGFIELD"  are further forward, all text is clear and easy to read.  The lock plate holds well in all positions and is in very good order internally with only the mildest hints of any oxidisation.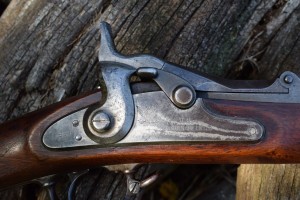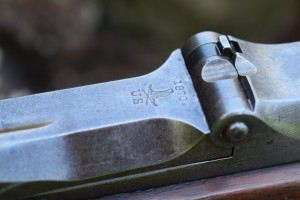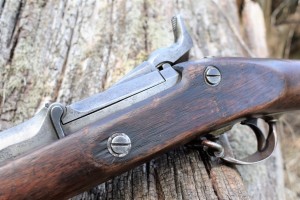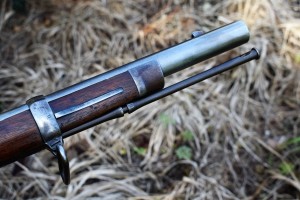 The hinged breech block is clearly marked just behind the hinge with "1870 / eagles head on crossed arrows / U.S."   When open the block is seen to be arched and the arch is 1.7/8″ long.   The receiver between hinge and shoulder measures 2.1/8″  the rear sight is mounted directly in front – it has a adjustable slide for range but also has an open "V" when laid flat.  Both the barrel and the receiver are marked with the serial number, "48884″.  On the obverse the barrel is marked "4051″ – meaning unknown.  The barrel is in fine condition with wide, fairly shallow rifling – but this is correct.  The bore shows only the mildest corrosion with two small patches of very shallow pits, overall the bore is bright and clean.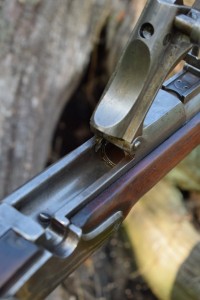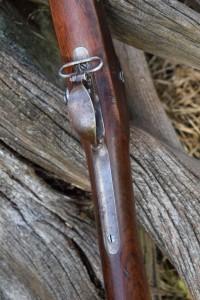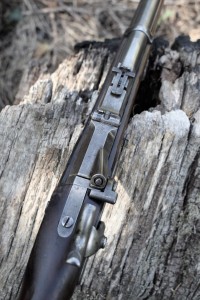 The rear sling swivel is mounted on the front of the trigger guard. On close inspection there is a very small, but very clear "S" just behind the iron trigger guard, impressed into the stock.  A good example of an early military Springfield which was also favoured by some famous Native Americans.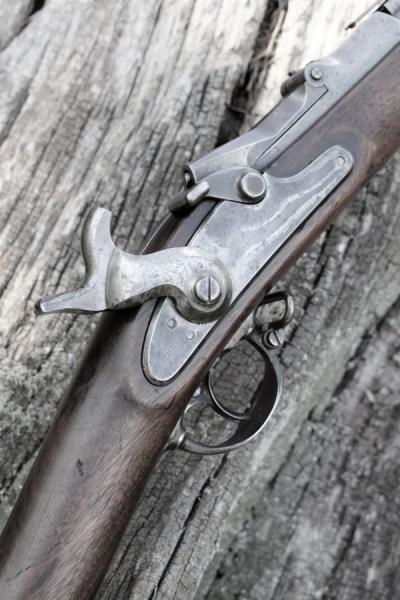 £ 1495.    SOLD
Comments Off