Created on March 7th 2016
A good, fully matching example of the famous Burnside Carbine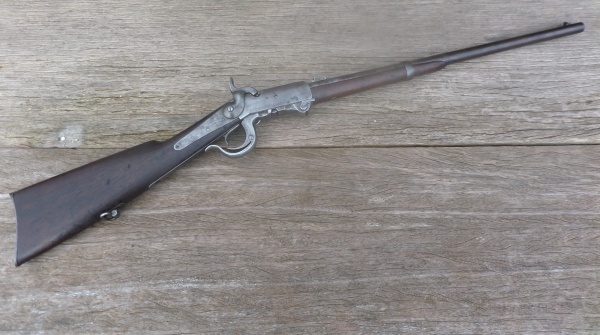 In Carbine configuration of the late type Four.  Overall this neat carbine is 39″ in length.  The barrel is 21″ from muzzle to breech face.  A single shot weapon with an ingenious hindged breech system designed to make the loading of the strangely shaped Burnside cartridge somewhat easier than the early types.  The model has the guide screw in the RHS of the frame, which helps open and present the breech for reloading.  It also sports the slightly improved percussion-type shaped hammer.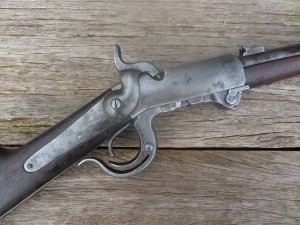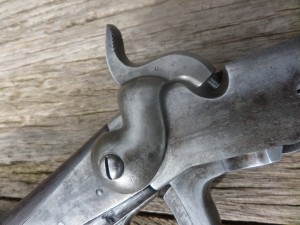 The Burnside is stocked in the standard American Black Walnut. The butt-stock is fitted with a cresent moon shaped steel plate. There is also provision for a sling mounting with swivel, despite the fact that there is a solid steel lanyard ring mounted on a sliding bar on the LHS of the action.  Weapons destined for use on horseback were usually fitted with a ring for a lanyard for the simple reason of avoiding loss while mounted. So, the carbine would always remain tethered to the saddle or the trooper, who could recover it in the case of a loss.  Simple but clever.  The weapon is in .54 caliber.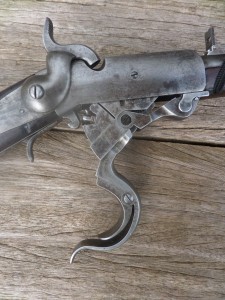 The LHS of the stock wrist has two boxed cartouches of inspectors initials, possibly "C.G".  Many of the steel parts carry single letter inspectors marks such as "S" or "H".  On complete dismantelling and cleaning of the weapon the serial number "9980″ was repeated on ALL parts.  This carbine has remained in one piece since the day it was made.  The top of the breech is marked as follows; "BURNSIDE PATENT / MODEL OF 1864″ then the serial number.  Other markings are less clear.  The lock was marked; "BURNSIDE RIFLE CO / PROVIDENCE=R.I." it is now only just visible. The top of the barrel is marked but is illegible.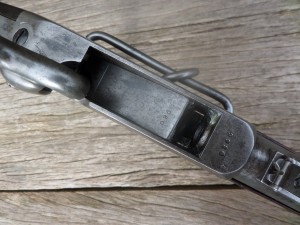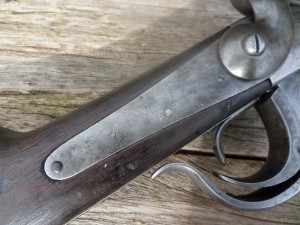 At the back end of the barrel is a simple flip-up sight which is marked with the numbers "3″ & "5″.  In the laying down position it presents an open "V"-type notch and then when up an apperture lower down and another "V" at the top of the blade.  Nearly all the colour has faded from the action and ancillery parts, the only remaining colouring being the barrel.  This had faded beyond the barrel band to a dark plum brown finish.  There is a simple front sight.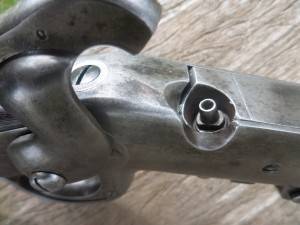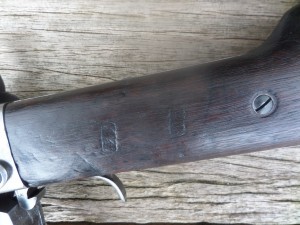 The bore on the other hand is in fine condition. Very clean five grove left-hand twist rifling.  The rifling is strong and has some depth to it.  There is no residual misting or rusting of the groves or even spots of pitting.  It really is in very good condition. The breech opening mechanisum works well and has been thoroughly cleaned and lubricated.  It is complete and fully functioning.  This is a fine example of the Burnside Carbine in unaltered form.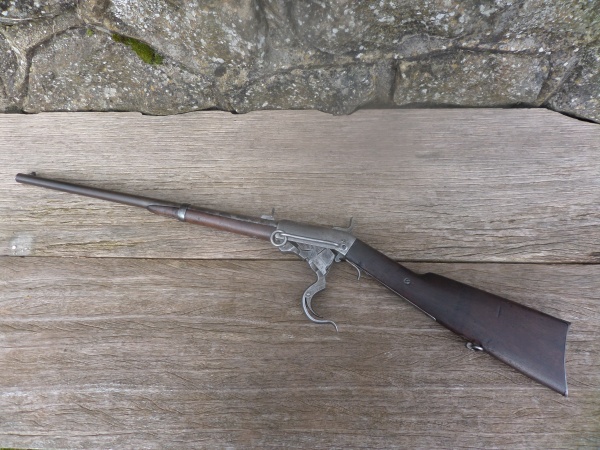 No License Required
£ 1675…………SOLD
Comments Off