Created on April 18th 2013
A Good World War One Gew' 98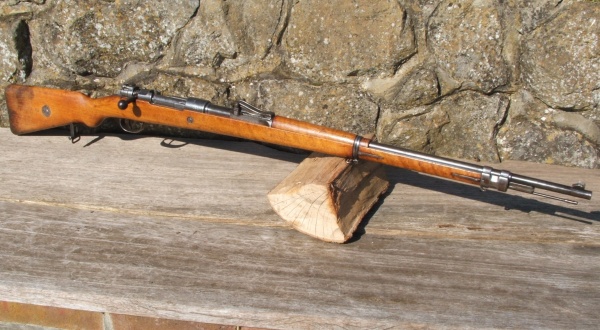 Chambered in 7.92mm Mauser.  Serial number 9642.  49.1/4″ in overall length.  Barrel 29″.
This is the standard issue Mauser G'98 used by most German infantry during World War One.  It is an excellent long barreled rifle capable of stunning accuracy due to the mixture of caliber and length of barrel.   It has a straight handled bolt within the classic Mauser action and a standard internal five round magazine.
The G98 is stocked in straight grained pale Walnut, with a short hand guard on top of the barrel. It has a plain steel butt-plate with matching number and Imperial German inspection mark.  The butt I.D. disc is blank but there are three F.W. Imperial inspectors cartouches arranged horizontally in the butt running towards the butt-plate.  Behind the trigger guard is a semi-pistol grip with cartouches then the rear sling classic Gewehr swivel.  Below that is the matching serial number for the rifle and another two cartouches.
The fixing plate for the magazine floor trap is numbered to the rifle and has matching screws holding the trigger guard and plate to the stock.   Single cross bolt in the stock.  Barrel band and fore-end cap are numbered to the rifle.   Full length cleaning rod and bayonet fixing with stacking hook.
The action is marked as follows; "C.G.HAENEL  /  SUHL  /  1915″  the RHS of the receiver is then marked with three upright clear inspectors markings.  The LHS is clearly marked with the serial number "9642″ and another mark which looks to be a pheonix with spread wings.  The action wall is clearly marked with the model designation "Gew.98″.  Infront of these markings are, on the barrel, the matching serial number and on the crest of the barrel a solitary "S" to denote the higher spec' round the rifle was capable of handling.  The very sturdy rear sights are mounted in front of the "S" and are graduated from 400 to 2000 meters.  There is no windage adjustment of these sights.  The fore-sight is mounted on a block with a perfect cross-hatching produced to reduce glare which is very good order.  The blade of the fore-sight is dovetailed in and has a register mark for center and the "42″ from the serial number.
Provision for the front sling mount is made on the barrel band.  Normal or standard Mauser bolt release on the rear of the action.  The bolt does not match the rest of the rifle, but all the bolt components do match each other with the serial number "2514″  The all over patina of the rifle upon the metal work is entirely even and shows no sign of any disturbance.  The bore is in excellent condition.
A rare rifle in the UK, fast approaching its 100 year anniversary.
Stock No'   f 330
£1200.  SOLD

Comments Off