Created on October 31st 2009
WW2 Gustloff-Werke "bcd" Code 98k Rifle with Scope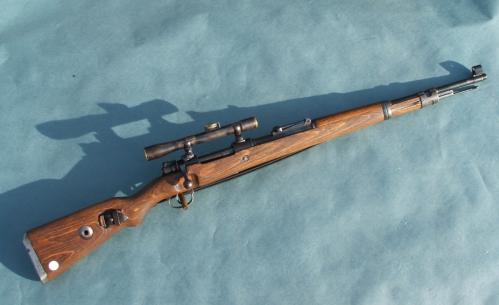 Serial number 3824, 7.92mm, 24″ round blued barrel, blued finish. Laminated stock. The receiver is marked "bcd" the wartime production code, and the year of manufacture "41″ The receiver ring is drilled and tapped for a previous scope mounting system and then converted for the double claw set-up.  The holes are plugged with screws.
The receiver is marked clearly with the roman numerals "XX" this refers to the military district in Germany where it was held.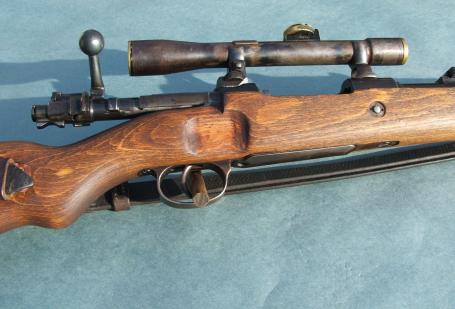 The scope is marked "C.REICHERT WIEN" and "NO 6263″ with quick release mounts. Standard military open sights with hooded front sight. The top of the receiver is marked "GERMANY" with Eagle firing proof followed by "XX"  "3824″ on the left of the barrel and the receiver. "Mod 98″ is on the left receiver wall.  All numbers match except the safety and it has the cleaning rod and leather sling marked "2809-7013″.
The bore is very good. The barrel and the receiver retain about 75% of the blued finish the rest has slipped to a smooth brown/grey. There is some minor pitting on the bolt. The laminated stock is excellent with a few minor dings.  Markings are clear.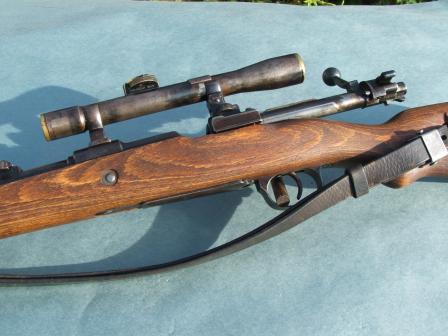 Stock No' f 360
£2325.
Comments Off