Created on May 23rd 2017
Imperial German WW I Gew 98 with Voightlander scope and offset mounts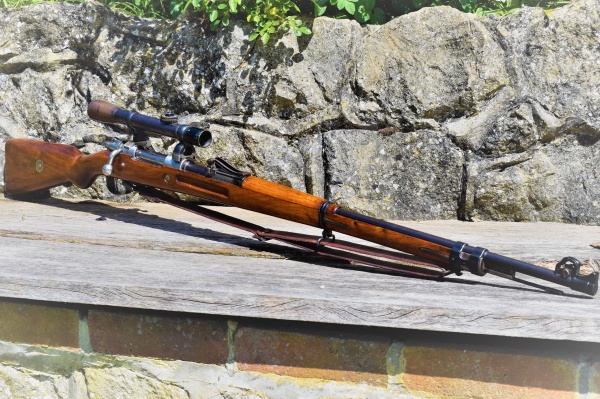 Full length German Infantry Rifle measuring 50″ in overall length.  Round blued barrel 30″ long.  The trigger pull is exactly 13″ in length.  The rifle is chambered in 7.92mm and has an internal 5-shot magazine with Mauser bolt system and safety flag.  The breech is finished in the white and is marked with the following: " Crown / AMBERG / 1916.  The action side wall is also clearly marked "Gew 98″ in fine gothic script.  The rifle appears to be matching and carries the number; "8919″,  there are numerous Imperial inspection marks and stampings over much of the rifle.
The bolt is correctly finished in the white with a matching set of numbers and has a bent-down arm.  Much of the rifle is matching in that it carries the last numbers of the serial number on many parts..  The rifle is fully stocked in the conventional manner with a fine European walnut stock with finger grooves.  The stock has the normal early sling swivel attachment points but the reproduction sling is currently attached to the rear by a swivel mounted on the front of the trigger guard.  The stock has the correct semi-pistol grip form to it and Imperial German stampings on the RHS of the butt.  The stock is in generally very good condition and looks to have been recently refinished leaving a pleasing semi-gloss finish.  There is a steel id disc set into the RHS of the butt which is unmarked.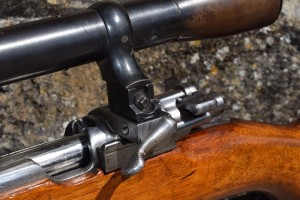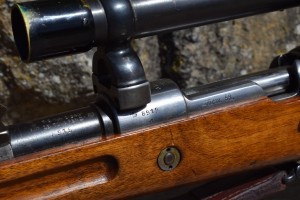 The rifle cosmetically is in excellent condition, considering its advanced age – far too good to have been dragged around in the mud of Flanders.  The rest of the components affixed to the rifle are all in very good condition with bearly any pitting to the surfaces at all !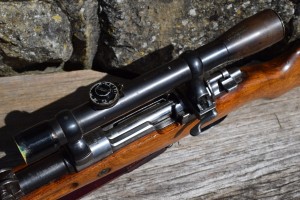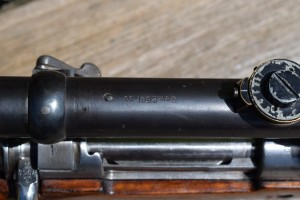 The scope mounted on top of the rifle is a genuine Voigtlander period scope, but for another rifle, as it carries the original rifles serial number on top of the tube. It is marked as follows;- "GEW .2561.cc"  The rear eye-piece is marked externally, "VOIGTLANDER / BRAUNSCHWEIG / 3x."  There is a single turret adjustment wheel mounted upon a saddle on top of the scope tube which gives adjustment to elevation.  There is some windage affected by adjustment of the cross drive thread built into the rear mount.  The optics are really very good with a four point reticule.  The scope hooks on and off of the bases with relative ease.  It is a fine optical instrument still and will easily offer more service before it can be used no more.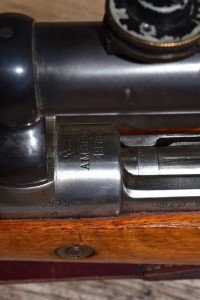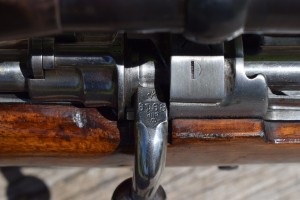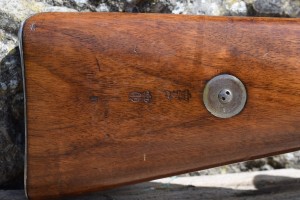 Ramp rear sight all matching.  Cleaning rod stowed under barrel is 15.1/2″ in length.  Front band includes mount for bayonet.  Adjustable fore-sight with muzzle guard fitted.  A good representation of a very hard to find rifle.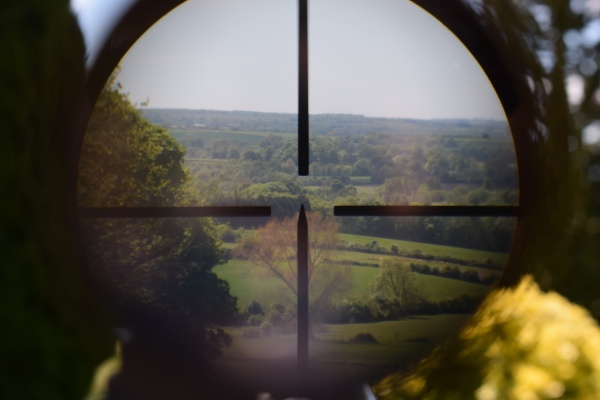 Ask for stock No' F 658
£ 2650.  SOLD
Comments Off