Created on October 31st 2009
K98 Mauser with Scope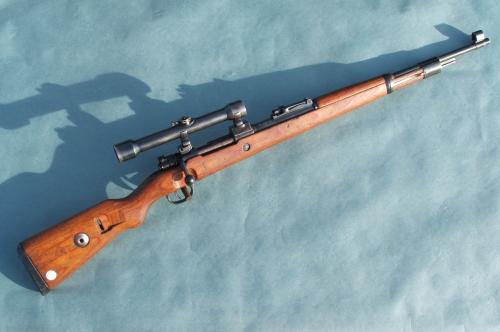 Serial number 35910g, 7.92mm, 24″ round barrel, blued barrel, laminated stock.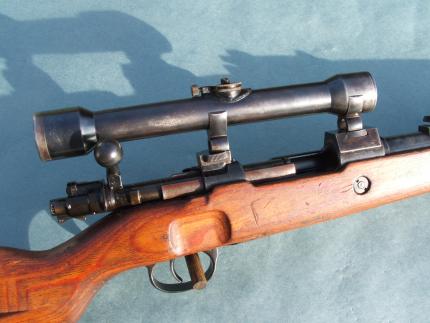 Standard hooded front sight with graduated rear sight to 2000 meters.  Good laminated stock with "Eagle/Swastika" over "H" stamped on right hand side behind stripping ring. Steel butt-plate. All numbers match.
      The Commercial Zeiss scope is marked "Carl/Zeiss/Jena/Zielvier/nr.45895″ with the left hand side of the tube marked "ERNST STEIGLER BERLIN"  with double mounts. There are Eagle firing proofs on the barrel and the receiver. "Eagle/135″ proof on the barrel and "MOD 98″ on the left of the receiver and Eagle/63 proofs ahead of the trigger guard. Most of the markings are high-lighted in white. All visible numbers match.
The condition of the rifle is very good but does looks refinished. The optics are good and clear with standard three post reticule. The bore is good and action fine. A good shootable K98 rifle.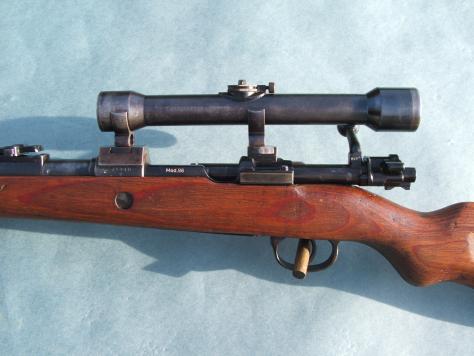 £2350
Comments Off