Created on October 31st 2009
The K98 Rifle with Turret Scope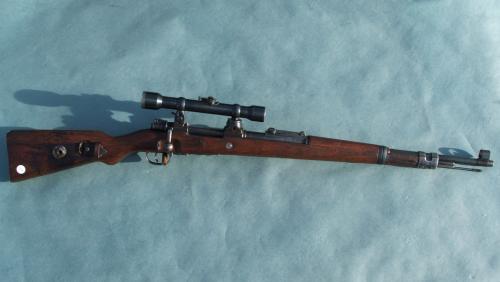 Serial Number 25921L 7.92mm 24″ round blued barrel, blued finish, laminated dark stock. Hooded front sight with military sight graduated up to 2000 meters.
Early commercial Zeiss scope marked on top "Carl Zeiss, Jena, Zielvier 38757″  and retainig a lot of its original colour with the high turrent mount system. Front scope ring is numbered to the gun. Some considerable corrosion to the barrel externally but not that it detracts from the weapon in my opinion. This weapon has "been through it."
Eagle firing proof on top of the barrel and receiver,"40Do59″ on top of the barrel. On the left receiver wall "Mod 98″ and "WaA655″ proofs ahead of the trigger guard, on the buttplate and the rear sight. It has a numbered brown leather sling and a cleaning rod mounted in the front forend cap.
Condition of the rifle overall is very good, there is no denying it this item is not brand new, but it depends what you want, this weapon has been on the front line somewhere, if only it could talk! It retains about 30-40% of its original blued finish the rest is a mixture of rich brown to grey patina. The floor plate and trigger guard have a smooth grey patina but there is heavy pitting on the bolt and rust and light pitting on the front barrel band. The steel butt plate has a little dent at the toe.
The stock and hand guard are scratched and dark with some dents from hard use, but by no means in need of replacement which would ruin the ambience of the piece. The scope and the rings retain more finish and the optics are very clear and usable. The rifle itself has matching numbers except for the barrel band. The scope may have been numbered to the gun.
This is an interesting piece of WW2 German military history and with a bore as good as this will shoot well.
£2085
Comments Off