Created on June 3rd 2008
Fine K98 Sniper Rifle 7.92mm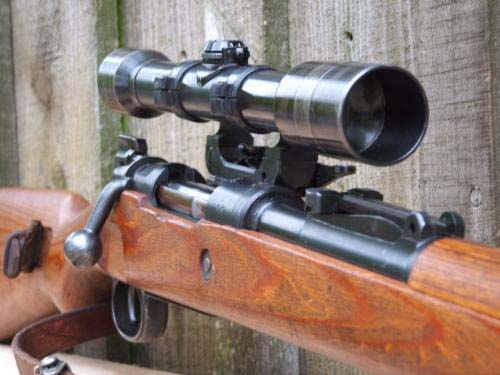 A good example of a "shootable" K98 Sniper Rifle as used by the German Army during the Second World War. Fitted with the later laminated stock which is in good condition with little sign of heavy use, marked on the right side of the butt and handguard with Waffanamt Stamps, the period stock matches the breech stamps "Mod 98″ and manufacturers code and date "SWP45″ (in date.)  Barrel and breech retain nearly all their finish and the bore is in good condition. There are many Eagle & Swastika marked parts on the rifle and some matching numbers.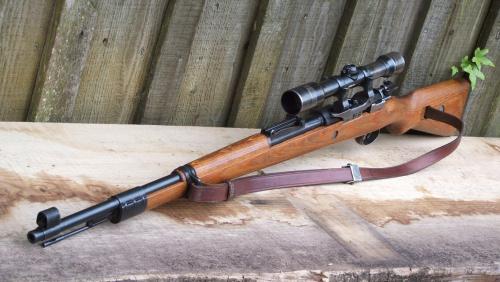 Fitted with a "short side-rail" mount supporting a good Dialytan 4x scope marked "dkl" for manufacture by Schneider Optik, Kreuznach during the war years – clear optics, with functioning elevation turret on top of the scope. (windage was achieved by adjustment at the rear of the mount, which is present)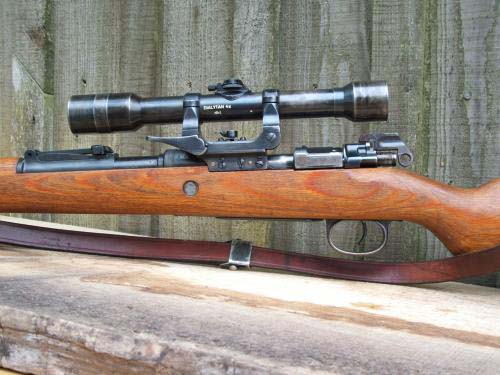 Good leather period sling with correct side attachment and pleasing patina. Correct short cleaning rod and bolt disassembly disk in stock. Rare large safety catch for "gloved hand" – stamped. Correct hatched steel buttplate. Fore-sight guard. Retaining its almost unused open sights for shooting without scope. Front barrel band a later replacement.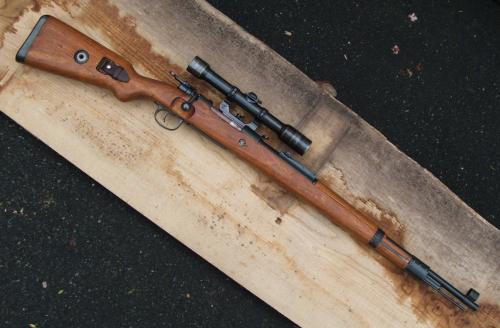 £2250.00
Comments Off