Created on May 29th 2008
7.92 (8mm) K98 German Service Rifle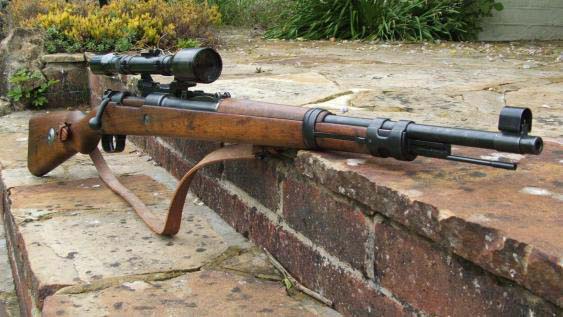 An Excellent K98 Sniper Rifle in 7.92 cal' with a very good bright bore. The rifle has many differing serial numbers on its various parts. The Scope is unidentifiable but seems period with extremely good, clear optics. The top dial (elevation) is marked "6×59″ and functions well. The mount is a long removable side mount type (not Waffen marked) it only has "55″ which appears on both main parts.
The stock is in very good condition with only minor dents and scratches showing its wear and of the solid walnut type. It is stamped with various Waffen marks including a number "19010″ on the left hand side of the butt. This same number is also electro-penciled on the bolt body. The receiver is marked in the standard way with "byf" & "44″ including clear Waffen Eagle over Swastika. Byf denotes "Mauser-werke at Oberndorf", the manufactures code. The standard length barrel also show the numerals "44D 39″ The rifle retains 95% of its original black with minor edge wear. There are other numbers stamped on other parts of the rifle.
The front sight has the correct hood for protection. The rifle also has the standard short cleaning rod and a new leather sling. This rifle would make an excellent shooter and should not be deactivated. The rifle has Birmingham proof marks under the woodwork.
£1850.00
Comments Off