Created on November 11th 2011
A Mauser built K98 in 7.92mm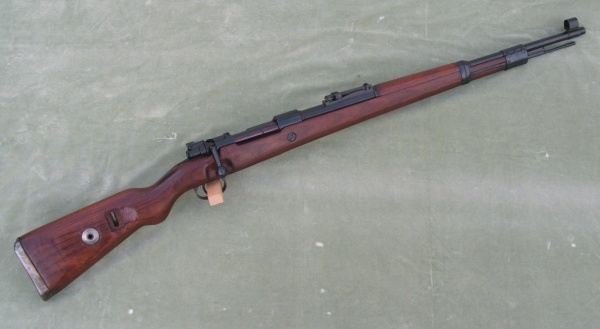 A good standard build late war K98 by Mauser – Werke, Oberndorf on the Neckar.  Serial number 12645 f.  7.92 mm (8mm) caliber.  Overall length 43.1/2″.  Barrel length 24″.  Standard  5 shot internal magazine with access by floor plate to "dump" rounds.  Can be loaded individually or by stripper clip through stripper clip guide on bridge of action.
Regular Mauser action bolt, with flag safety and bolt removal sprung clip.   The whole in very good condition with 99% of deep rich blueing remaining  assumed to be refinished – professionally.  The breech bears the manufacturers code "byf" and the date of build 43.  On the LHS of the breech is stamped the serial number and a clear waffenamt.  Adjacent to this on the barrel is another clear waffenamt and on the side wall of the action the Model designation "Mod.98″
The trigger guard and floor plate look to be refinished with just the traces of the original serial number visible, forward of the detachable floor plate.  Correct K98 sights numbered to another gun graduated to 2000 meters.  Blade fore sight with hood.  The cleaning rod is not numbered. Late pressed steel and welded forend cap.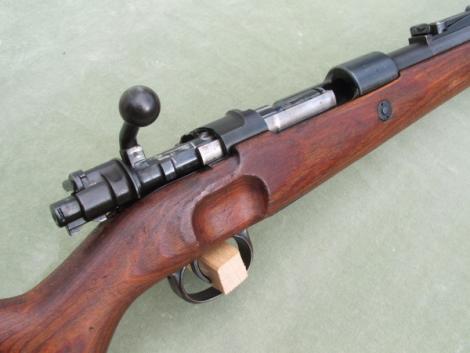 Late war laminated beech stock with slot for sling in butt.  Fitted with bolt strip down disc and cupped steel butt plate.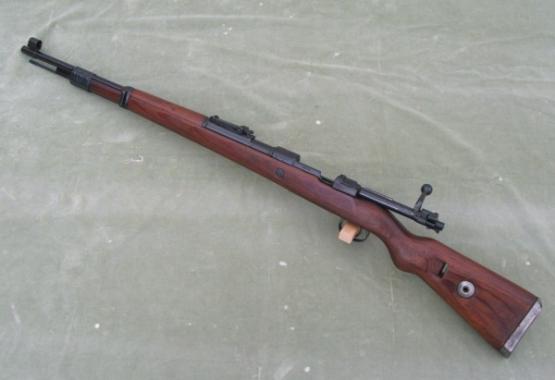 A  solid German K98 ready to exercise on the range with a good bore and a smooth action.
Stock code: f 232
£755.  

Comments Off