Created on September 21st 2013
A Kit that would help complete a Number Four to a "T"
Dated 1942, this is a Genuine Number 32 Mark I British Telescopic Sight, normally found on the British Army's Number 4 Enfield Rifle during and after the second world war.
It comes with what appears to be a reproduction storage tin and mounting bracket.  The tin contains the adjustment tool for zeroing the staggered windage and elevation towers.  This faithful reproduction tin is constructed of riveted, folded tin with the correct hinges and closing clips.  The lid has the correct sprung retention clip for the adjustment tool and the base the mountings which securely hold the scope bracket in place.  These tins themselves were a clever way of carrying the scopes, whilst protecting them and holding them from rattling around in transit, so avoiding damage to the optical instrument and unnecessary "clatter" from the metal components at inopportune moments.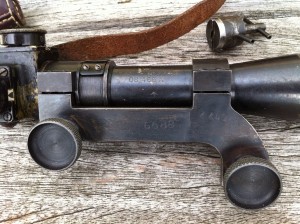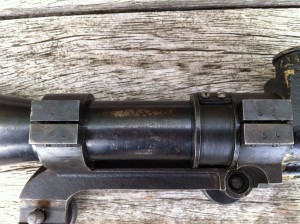 The reproduction mount is also equally faithful in construction.  Most noticeable is the sturdy construction and the large "hatched" dished fixing wheels.  These mounts were chosen as they enabled the scope to be removed and then later replace, rapidly if need be, in the field and for the rifle to remain zeroed.  They were and still are one of the most robust mounting systems ever adopted by the military.  The top caps are held by four slotted screws, the caps being numbered to avoid mix up if ever disassembled by the armorers.  The front face has two numbers stamped into it, the first upside down reads "6477″ the second the correct way up "6688″.  There are no broad arrows on the mount or wheels.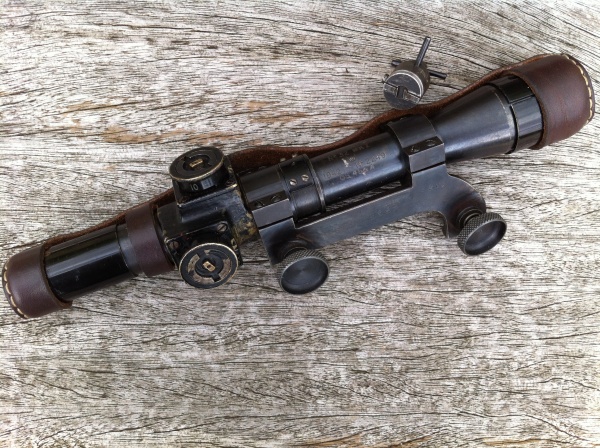 The genuine number 32 mark I scope is in good condition with good optics.  It has the standard single post and rail reticle which is clear and adjusted by the two drums on top and to the left of the tube.  The elevation drum is graduated on the side from zero to ten and the windage drum with a central zero position to 16 in either direction. ( The author was able to re-zero the side drum scale easily whilst examining the piece.)  The optical end of the scope still retains the sliding sunshade which works well.  The tube is marked as follows between the mount caps as follows;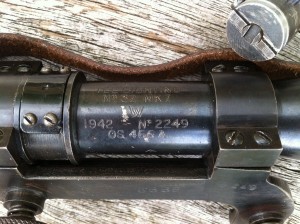 "TEL. SIGHTING /  No 32 MK I  /  Ww (logo)  / 1942  No 2249  /  OS 466 A  /    broad arrow"
"The "Ww" logo represents W. Watson and Son who made the scope.  In all they made 2000 pieces in this first batch serial numbered 1000 to 2999.  There is a set of leather lens covers which is marked "B.H.G.1943″  Stitching is good and the leather supple.
Stock Code  TeleHB.I
£ 1395.00      SOLD
Comments Off