Created on May 13th 2009
A collection of Military Prints covering a wide range of subjects, some are signed by the Artists or numbered as to where they come in the limited ranges they were produced in.
ANY OFFERS WILL BE CONSIDERED ON ANY OF THESE PRINTS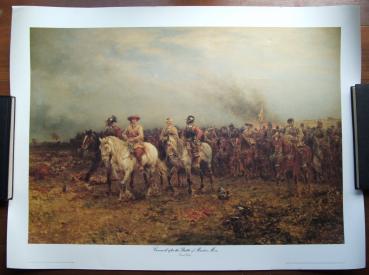 Cromwell at Marston Moor
Please contact me if you wish to see a photo of any of them prior to purchase, most of these have not been hung yet and as such are unused.
The first price shown is the guide or expected retail price, the second in bold text is my asking price, excluding postage and packing. You will see that they are good value and in most cases there is only one of each.
P1: "Ops Normal"  Gazelle Helo in flight by J.W.Hopkins, 1 of 50, 606x424mm, £120/£25.
P2: "Op Grapple" Lynx in Bosnia by J.W.Hopkins, 251 of 700, 628x430mm, £88/£20.
P3: "Fire Force External" Rhodesian Dakota 1979 by JW Hopkins, 35 of 500, 630x430mm, £88/£20.
P4: "RLI Force External" Rhodesian First Btn Inf 1979 by JW Hopkins, 3 of 500, 612x420mm, £88/£20.
P6: "Aldergrove Dispersal" Fifth Army Core NI by JW Hopkins, 492 of 500, 628x434mm, £88/£20.
P7: "Five of Nines" Lynx Dust Off by JW Hopkins, 495 of 500, 640x451mm, £88/£20.
P8: "Gulf Buddies" Desert Eagle and Desert Rat by Geoffrey E Lea, 185 of 1000, 695x485mm, £88/£25.
P10: "Into Battle" British Army Air Landing by MA Gilbert, 281 of 380, 610x510mm, £30/£7.50.
P11: "24 Air Mobile" British Army With Lynx Support by JW Hopkins, 21 of 50, 654x532mm, £120/£20.
P12: British Tanks Ferry Over River by JC Bung, 586x538mm, £18/£5.
P15&16: "Imber Clump, Warminster 1986″ British Tank on Exercise by Alwyn Crawshaw, 81&82 of 650, 658x583mm, £30/£5each.
P19&20: "SAS Special Ops Vehicle" With Certificate of Authenticity by NR Appleby, 143&144 of 250, £45/£20each.
P21: "Assault on Iranian Embassy" Operation Nimrod by G Lothian, 33 of 1100, 702x474mm, £88/£20.
P24&25: "SAS Air Strike" With Certificate of Authenticity, The SAS In Afganistan 2002 by NR Appleby, 34&174 of 250, 702x488mm, £45/£15each.
P26&27: "Western Iraq 1991″ SAS in Iraq, 660×500, £30/£7.50each.
P28: "SAS Volunteer" 23rd SAS Volunteers by P Douglas, 685x495mm, £25/£7.50.
P31: Facsimile of Newspaper, Daily Mail, Japan Surrenders, £8.
P32: The Sunday Monitor, Newspaper Copy of Defeat of Bonaparte, £8.
P33: Daily Mail – VE Day, Copy of Newspaper Article, £8.
P34: Daily Herald – War Declaration, Copy of Newspaper Article, £8.
P35: Daily Chronicle – WW Surrender, Copy of Newspaper Article, £8.
P36: Evening News – Normandy Landings, Copy of Newspaper Article, £8.
P37: Daily News & Leader – Assasination at Sarajevo, Copy of Newspaper Article, £8.
P38: New York Times – Loss of Titanic, Copy of Newspaper Article, £8.
P39&41: "Sargeant of the Royal Artillery" Crimean Period by MG Greensmith, £5each.
P42&43: "Royal Scots in Kosovo" Tank in Kosovo by B Bishop, 567x438mm, £35/£15each.
P44: "Operation Loren" 6th RA Fermanagh in NI 1992 by PW Watson, 526x424mm, £10/£5. 
P45: "Kings Troop Royal Artillery Horse" 1989 at Windsor by T Taylor, 67 of 508, 594x474mm £40/£10.
P47:  "Colours of the London Regiment" 1997 by D Rowlands, £15/£5.
P48: "Uniforms of the Intelligence Corps" by C Hughes, £10/£5.
P49: "The Fusiliers" Uniforms 1815-1968 by CC Stadden, £10.
P51 "The Barrier" 21st Regiment Highland Fusiliers by M Wetherstone, £33/£10.
P52: "A Scene From the Civil War" by Ernest Crofts, 654x414m, £37/£10.
P53: "Contact" 2nd Battallion Light Infantry Bosnia by JW Hopkins, 8 of 100, £120/£20.
P54: "Dargai" by R Gibb, 610x434mm, £33/£10.
P55: "WW1 Wire Laying" Mounted Engineers, 595x507mm, £40/£15.
P56: "F.M.V. Montgomery" Portrait on Textured Paper by GA Campell, 500x590mm, £8.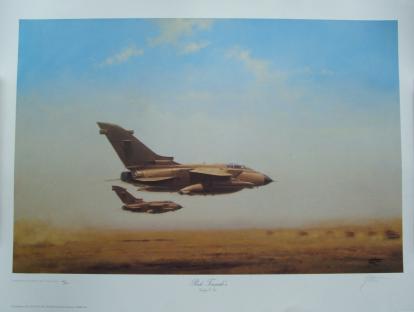 Pink Tornadoes
Comments Off