Created on October 27th 2011
A Rare Example of the Snipers Spotting Scope by Kodak Eastman Company.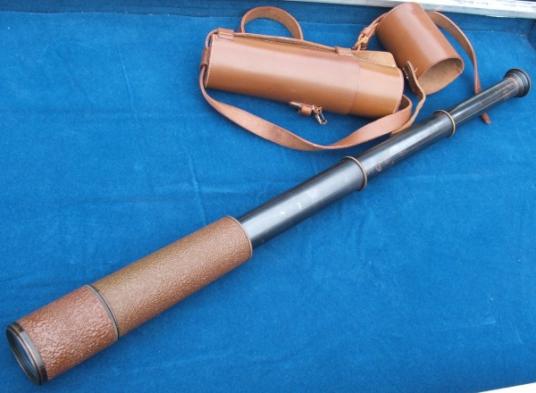 It is immediately apparant from one glance at the outside, that this Scout's Spotting Scope is in very good condition and, the optics are on a par with the rest.  The lenses are capable of a magnification of 20 x.  Unusually, the tubes still retain the blackened finish over copper which is just starting to show through in areas of wear.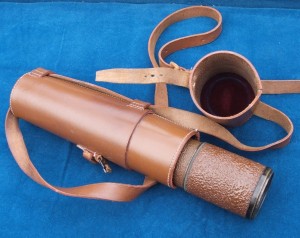 It is retained in its original lined leather case with strap, which is approx'11.1/2″  in length.  Fully extended with sunshade the overall length is 32″.  The object lense being a nominal 2″  across.  The  scope is finished in the brown crackle protection externally.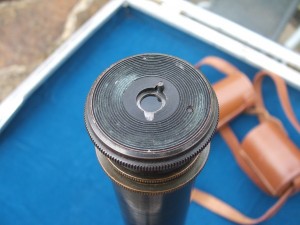 All lenses are clear and scratch free, the result is excellent optics and a very usable scope with a perfect image.  The eyepiece has the original anti dazzle slide.
The markings on the first draw tube read as follows;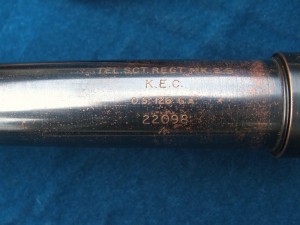 "TEL. SCT. REGT. MK 2 S.  /  K.E.C. /  O.S.126 GA  /  22098  / Broard Arrow"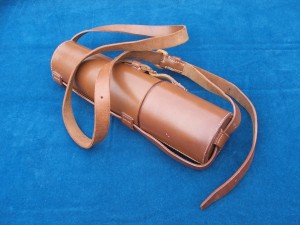 One of the most stunning features of this piece is the intact blueing.  I have always wondered how a telescope with a nice long brass tube glinting in the sun would be a good idea for a sniper…!
£395.
Comments Off