Created on March 11th 2015
The rare and highly unusual Remington-Rider 5-shot magazine Pistol
The Remington-Rider, a small compact close protection personal weapon.  Easily concealed about the person and used at close range to fend off unwanted attention, or just to settle disputes at the card table in the saloons of the Wild West.  Packing a punch at .32 "extra-short " caliber with five shots stored in the under barrel tubular magazine.  Ignition was by the rim-fire system, making this collectible pistol classified a section 58(ii) in the UK.  To be possessed without a firearms licence.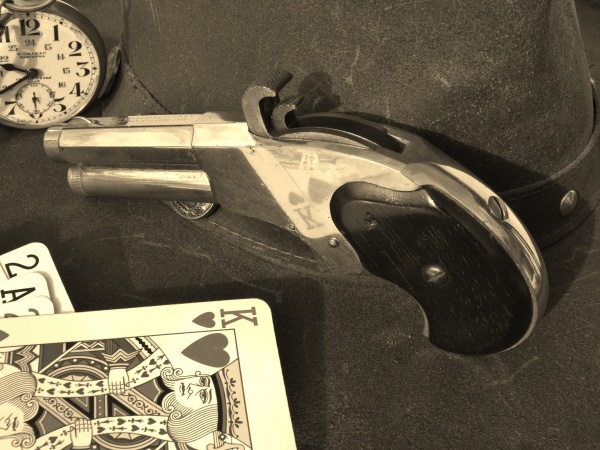 The pistol measures 6″ in overall length (from the crest of the curved back-strap to the tip of the barrel)  The hexagonal barrel is 3″ long but  finishes in a round at the muzzle.  The magazine tube under with its knurled loading tube end finishes at the same length.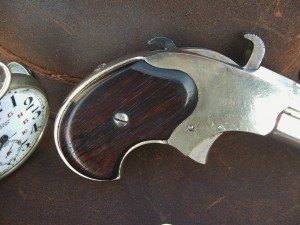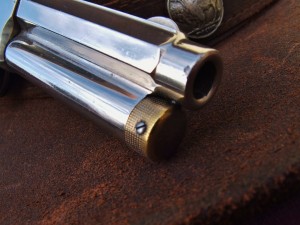 These pistols are more commonly encountered as engraved examples, not plain as here.  Walnut grips are usually standard but Rosewood are fitted to this example, once again – more desirable, and this set are in fine condition.  The nickel finish on this example seems to be the original and in excellent condition, only suffering from occasional high-edge wear.  There are a smattering of very small failures to the nickel finish on the face of the actual trigger, one can imagine the sweat of a stressed gambler may be the cause.  The only other loss of finish is to the end-cap of the loading tube, where the brass underneath shows through almost in its entirety.  If there ever was a pressure spring behind the concealed trigger it has failed and the trigger tends to "flap" somewhat until it is pressed in use.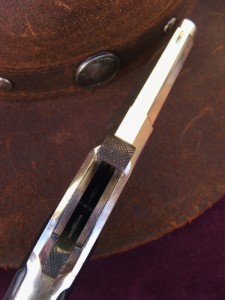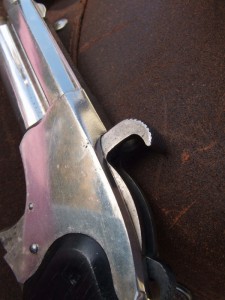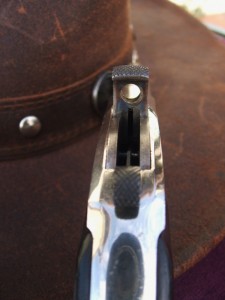 The cocking piece is engraved with a crisscross design to aid purchase when pulling back the hammer.  The actual hammer is directly behind the loading lever and is also pulled back when loading.  The loading hammer springs forward, driving the round into the chamber and the hammer drops when the concealed trigger is pulled. A nice touch is the aiming hole through the loading lever.  There are strong case colors on the loading lever which most noticeable on the rear.  The striker is nicely blued and still maintains a high shine.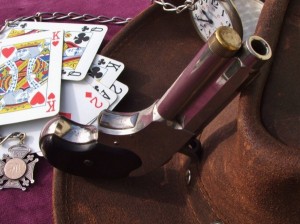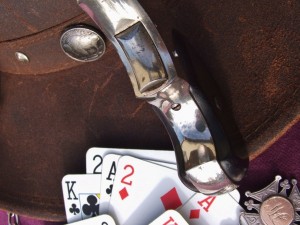 The barrel is marked along the top flat as follows;- "E.REMINGTON & SONS. ILION, N.Y. / RIDERS PAT AUG.15.1871″  The markings are clear with no hint of refinishing causing losses.  Between the muzzle and those markings is a simple half round fore-sight blade.  There are specifically no sharp edges on this pistol, a concept which the designer, Joseph Rider built in to avoid "snagging"" within pockets or holsters.  A quick production of the pistol would most probably put a stop to most arguments and avoid firing, so putting a stop to messy court cases, which are time consuming and keep one away from the tables!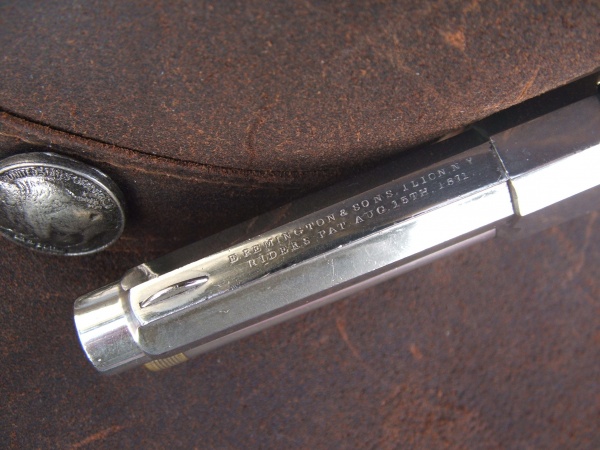 A good clean example of an unusual nineteenth century derringer, in strong original condition.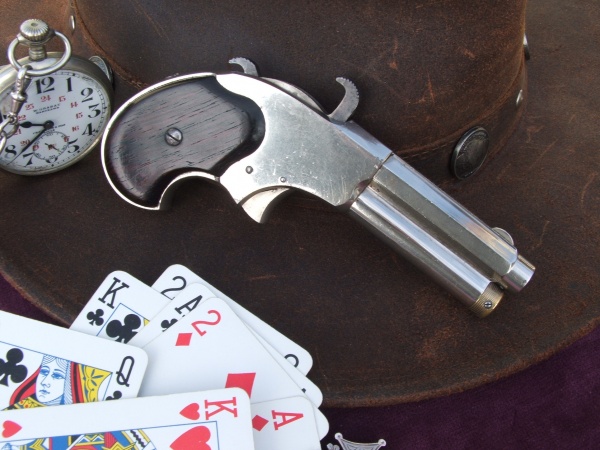 £ 2450.
Comments Off