January 30th 2015
Posted under Events
I would just like to Thank all the many customers who visited me on the stand over the weekend.  I was really struck by the change in the viewing public.  Everybody seemed far better informed than the last occasion I stalled out at this show.  It seemed that far more people were well informed about their ability to take up Classic Rifle Shooting in the UK.
Whereas at the last show I attended at Newark some years ago there was a definite blank spot from the viewing public about this area.  Whether there has been more coverage of this area of shooting or just that more people realise that these fine Collectible Arms are a positive investment will remain a mystery to me.
The general level of interest was extremely high.  People asked relevant and interesting questions and seemed genuinely interested in the prospect of getting involved.  Of course, quality sells and quality maintains its value. Maybe, the message is getting through.
Just to prove me wrong this show turned out to be one of the best I have ever attended, not only in sales but also in feedback and future lines of enquiry.  I would be genuinely interested in what visitors to the show have to say about their day out and if I can improve the By Sword & Musket display in any way that I can not see from my position.
Here are only a few snaps of the stall at the show, I didn't really get much time to view the rest of the show, as customers kept me talking for most of the time so there aren't any other pictures of anybody else – sorry!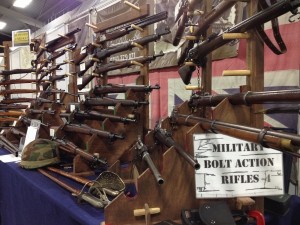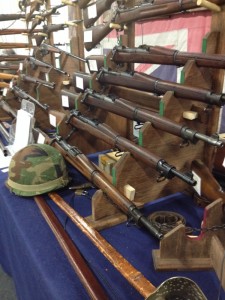 Hopefully see the rest of you at the National Motorcycle Museum on Sunday 22nd of February for the Antiques Show.
And, as for the BSS next year – I will see you there.
Comments Off